Mega Star gifts his personal car to make-up man's wife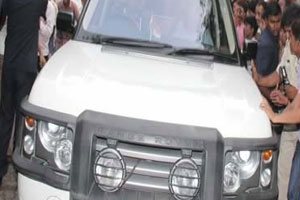 Big B has fulfilled yet another of his loyal friend's dreams. The star recently gifted his make-up man of 40 years, Deepak Sawant, a Range Rover. Deepak's wife Sarod had been in and out of the hospital because of some ailment. She had expressed her desire to own a luxury car. And as expected, Amitabh Bachchan made her dream come true.
A source says, "Generally, Amitabh uses his cars for 3-4 years and then sells it off. This car had been with Big B since 2002 and he had rarely used it. Yet, it was his favourite. But as soon as he heard about Sarod, he decided to give it to her as a gift."
When contacted, Deepak just said, "Bachchanji has given a car as a present to my wife.