Live Updates : MAA Elections – Rajendra Prasad wins he Is New President of Movie Artists Association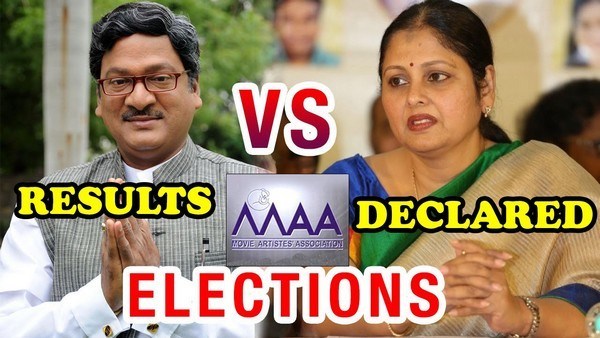 Updated at 12:00 PM
Out of the 394 votes, Rajendra Prasad secured 237 votes and Jayasudha got 152 and other contestant Bommarillu Dhulipala got only 5 votes
Updated at 11:40 AM
Out of 702 votes, 394 votes were polled and Rajendra Prasad won by a majority of 87 Votes
Updated at 11:35 AM
The final round of counting comes to an end and Rajendra Prasad emerges as the New Presidend for MAA.. His panel is in a celebratory mood at the venue
Updated at 11:26 AM
5th round of counting has been completed and Rajendra Prasad is leading with 53 votes
Updated at 11:20 AM
4 Rounds have been completed and Rajendra Prasad is leading the race with 46 votes
Updated at 11:00 AM
Three rounds of counting has been completed.. Actor Vijay Chander has just now announced that the final results wil be out in a half an hour
Updated at 10:43 AM
Rajendra Prasad has just now arrived at the venue . Other contestant Jayasudha is yet to arrive
Updated at 10:38 AM
It is not yet announced whether they will declare round wise votes tally or else they will give the final result at the end of 7 rounds
Updated at 10:30 AM
The counting is going on under the close monitoring of Cameras, The first ballot box in the EVM is opened just now
Updated at 10:20AM
The counting for MAA elections has just begun.
Updated at 10:15 AM
Former MAA President Murali Mohan has announced that there will be 7 rounds of counting
Updated at 09:55 AM
The MAA elections which will be held for every two years have created more enthusiasm among the people and has created the backdrop of political elections.
Updated at 09:35 AM
MAA elections counting will start soon and the results will be announced with in half an hour by MAA Election officer Krishna Mohan.
Updated at 09:30 AM
It is a well known fact that senior actors, Rajendra Prasad and Jayasudha are in the fray for the presidential post of Movie Artist Association. The polling for these elections was completed recently and the results will be announced today. The counting process will be held amdist an election officer and the curiosity among the audience has raised up quite immensely. We at 25CineFrames.com are bringing you the live updates from the event directly. Keep watching this space for some interesting updates.