"KING" Nagarjuna in Rudhramadevi !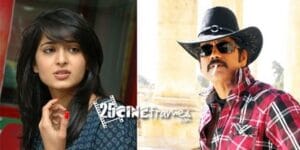 Gunasekhar's Prestigious High Budgeted Historical movie "Rudhrama Devi" is the first Indian Stereophonic Historical move in 3D..This movie is filmed on best International Standards. Gunasekhar is directing and producing himself under Guna Team Works Banner.This Film Editing by A. Sreekar Prasad. Illayaraja is the music director. Dailogues for Rudhrama Devi were written by Parachuri Brothers. Anushka is playing the title role. Rana is in the lead Character. Thota Tharani who is an Indian film art director and production designer who has worked in Tamil cinema, Telugu cinema, Malayalam cinema and Bollywood. As of 2013, he has won two National Film Awards and two Filmfare Awards South. His work consists of paintings, murals, paper collages, wooden montages, and installations and so on is working for this film.
Few Archaeologists who had been visiting the sets erected by Thota Tharani for Guna Sekhar's "RudhramaDevi" admired Thota Tharani for exactly replicating the historical monuments and showing it to current generations. They are reportedly in awe seeing the magnificent structures built for the film, the shooting of the movie is going on in the Raj Mahal set erected in Annapurna 7 acres studio…..!
The added attraction to this movie day by day, For every day some intresting news about this movie has come out and increasing its expectations, we have already heard that many famous actors like Prakash Raj, Krishnam Raju and Baba Sehgal are in the part of this historical film, While there was an introduction of actor Srikanth's son Roshan and daughter Medha as child artists. These two are playing the childhood roles of Rana and Anushka. Rana Daggubati plays lead role & "Superstar" MaheshBabu is doing a small cameo role and
Now we have another exciting and intresting news for you dear folks,"KING" Nagarjuna is also associated in this crazy project recently!