KCR Praised Jr NTR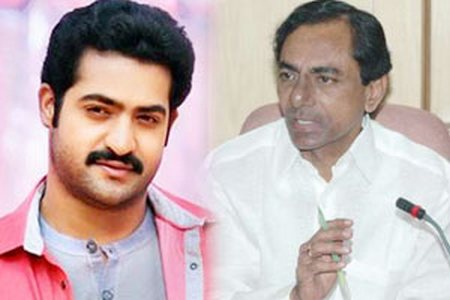 Telangana Chief Minister K Chandrasekhara Rao indirectly took dig at Jana Sena chief Pawan Kalyan and Congress leader Vijayasanthi for boycotting the prestigious intensive household survey.Its known that Actors turned politicians Pawan Kalyan and Vijayashanthi refused to provide details to enumerators for the Intensive Household Survey in Telangana on August 19.
KCR spoke with media on Tuesday evening and he tahnked all telangana people for extending their cooperation for the survey .KCR took dig at the people who refused to divulge their details.
He indirectly referred to Pawan and Vijayasanthi and said they committed social crime by not providing the details.KCR further added that those who want to stay here as tourists and guests in telangana have not taken party in the survey
KCR however praised youngtiger Jr NTR for furnishing details to the enumerators. He said that Jr NTR might be from Andhra, but he and his family members happily submitted details to the concerned officials.KCR made special mention about Jr NTR and his wife that has surprised many.
KCR told that the gathered data would be compiled and computerized in 10 to 15 days and will be available from his office down to the office of a gram panchayat or a village.