Kajal Agarwal Look in Brahmotsavam Revealed
After the blockbuster hit of Srimanthudu, it is known that Mahesh Babu is currently working on his upcoming movie Brahmotsavam. With the massive success and awards received by the team of Srimanthudu movie, Mahesh Babu had gained countless fans and followers. The Tollywood's Prince Mahesh Babu had pretty much nothing to cheer on about this year. The superstar's upcoming film Brahmotsavam is beenconfrontinginterruptionswith numerous delays. Finally, it has now postponed the release of the moviefor almost a month that is May 20.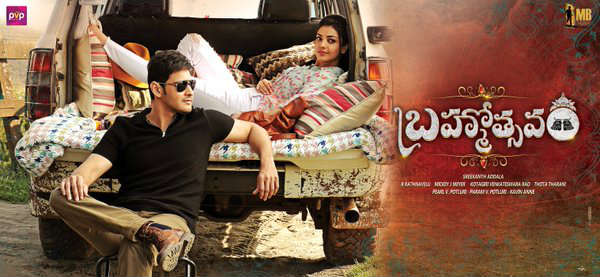 The latest news about the movie is the launch of new poster from the movie Brahmotsavam starred by Mahesh Babu and Kajal Agarwal as the main leads. In the new poster released by the movie unit, you can see Mahesh Babu in a stylish look and charming Kajal looks stunning behind the hero. Despite the movie's audio launch, the film unit has released the new poster from the movie in order tosoothe the diehard fans of Mahesh Babu and Kajal Agarwal.
First Look of Kajal Agarwal
The new poster of Brahmotsavam reveals the exceptional chemistry among the co-stars who are going to share the screen. Not just the two remarkable leads, the backgroundand location of the whole picture lookoutstanding in terms of creativeness. You can see in the new poster where Mahesh sitting on a stool, wearing a pair of shades as he gazes on calmly in the distance.
Behind the duo, there is a large camper vehicle on the back of which, lying in relaxed bedding is Kajal Agarwal. The Srimanthudu actor looks as handsome as always, but Kajal is the one who has captured everyone's attention. Kajal looks celestially stunning in a flower patterned top and torn white pants.
According to the news about the movie's story outline, Kajal Agarwal is playing as love attention of Mahesh Babu in the movie 'Brahmotsavam'. So far, we have seen only the stills of Samantha Ruth Prabhu who is one of the female leads of the movie. Now, the movie unit has revealed the first look of Kajal in the latest movie poster. Even Kajal Agarwal was not seen in the teaser of Brahmotsavam.
'Brahmotsavam' is being directed by the popular director Srikanth Addala and produced by PVP Cinema. The movie's audio launch will be held on 7th May 2016 in Hyderabad in an enormous way.'Brahmotsavam' is the most-awaited movie which will be a feast for Mahesh Babu Fans this summer.The film also stars Samantha and Pranitha Subhash in the lead role.