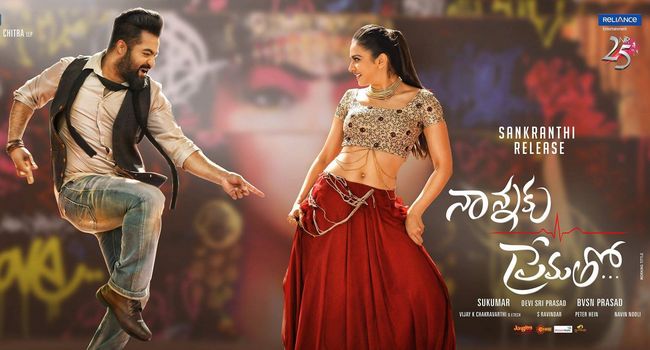 25CineFrames Rating: 4/5
| | | |
| --- | --- | --- |
| Release Date | : | Jan 13,2016 |
| Starring | : | Jr NTR,Rakul Preet |
| Director | : | B.Sukumar |
| Producers | : | B.V.S.N.Prasad |
| Music Director   | :   | Devi Sri Prasad |
The day everybody was waiting for has finally arrived. NTR's most awaited emotional family drama, Nannaku Prematho has hit the screens all over. Let's now see how the film turns out to be.
Updating Soon…
Type Of Movie (Genre) :
Drama,Romance
Story :
Abhiram(NTR) is an young entrepreneur based in London who comes to know that his father(Rajendra Prasad) is diagnosed with pancreatic cancer and is in his last stages of life. An upset Abhiram, rushes back home to confront his dad.
During this time, Abhiram's father reveals that his last wish is to see Krishnamurthy(Jagapathi Babu), the richest Indian in the UK get defeated in life. He further reveals to Abhiram how Krishnamurthy had ripped of his property and happiness by cheating him big time. Rest of the story is as to how Abhiram dethrones Krishnamurthy and fulfills his father's dying wish.
Technical Aspects :
Music by Devi Sri Prasad is just about ok as all the songs are quite situational. The way they have been shot and executed are also below par. Editing is decent and at least 10 minutes of the second half could have been trimmed. Dialogues are superb and emotional. Production values and camera work is top notch as London and its visuals have been showcased in a stunning way.
Coming to the director Sukumar, he should be credited big time for Nannaku Prematho. His brilliance is written all over the script as he presents the film in quite a gripping way. Right from the scene one he makes it quite clear and narrates an emotional revenge drama. The way he chooses a simple and healthy way of showcasing the revenge drama is what clicks with the film.
Plus Points :
With Nannaku Prematho, NTR stuns you with his emotional performance. This is probably NTR's best performance till date as the young tiger has unleashed a new side of caliber. Right from the first frame, NTR nails it with his stylish looks and classy act. He is exceptionally good and carries his emotions in right balance. NTR needs to be appreciated for the fact that he has come out of his comfort zone and accepted a film like this.
Yet another major asset of the film is Jagapathi Babu. If not for him, the film wouldn't have come out that well. The veteran actor does his villainous act to the 'T' and excels in his role. Babu's subtle expressions and attitude is what that makes the proceedings interesting. All his scenes with NTR have been designed exceptionally well by Sukumar.
The film scores brownie points as there is no bloodshed and unnecessary violence in the film. Rakul Preet Singh looks gorgeous and does her role supremely well. She looks apt as the rich NRI and her own dubbing adds a lot of weight to her role. Interval block and the last half an hour of the film is high on emotions and engross you to the proceedings.
Production values are superb. Rajeev Kanakala gets a meaty role after along time and performs extremely well. Rajendra Prasad is good in his role and brings a lot of weight to the film.
Minus Points :
Nannaku Prematho is a class film and the masses might find it very hard to digest certain facts. Even though NTR is superb in the film, the regular punch dialogues and dances he is usually associated with are completely missing in this film. Pace of the film is also a bit slow as the film takes its own time to unravel.
Some scenes featuring the affection between NTR and his father should have been showcased to add more weight to the film. As the subject matter is quite serious, scope for comedy was also less and all those who expect this as a Sankranthi special entertainer might be disappointed a bit.
First 15 minutes and the entire episode featuring Rakul Preet and her mom could have been mellowed down and edited out. This episode looks out of place and eats away most of the run time.
Final Words :
On the whole, Nannaku Prematho is a film where all the unnecessary commercial aspects are put aside and the focus is on the content. NTR's solid performance, a racy screenplay and emotional content are huge assets. However, the slow pace of the film and lack of certain elements which are required by NTR fans and mass audience will hamper the collections to an extent. Finally, Nannaku Prematho is a class act which should do well with the A center audience.
Overall 25CineFrames Rating :

4/5