I (AI) Manoharudu Telugu Movie Review Live Updates Vikram Shakar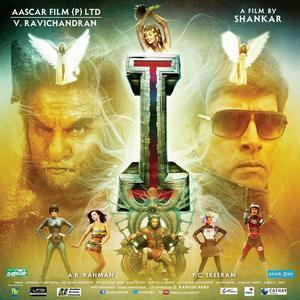 25CineFrames Rating:

2.75/5
[clear]
| | | |
| --- | --- | --- |
| Release Date | : | JAN 14,2014 |
| Starring | : | Vikram,Amy Jackson |
| Director | : | Shankar |
| Producers | : | V. Ravichandran D. Ramesh Babu |
| Music Director   | :   | A. R. Rahman |
[clear]
[clear]
Shankar is one film maker in India whose films are eagerly awaited all over. His latest presentation is 'I' which has the National Award wining actor Vikram in a lead role. After all the hype and hysteria, this film has finally hit the screens today. Let's see how it is.
[clear]
Story :
Lingesh(Vikram) is an upcoming body builder who is deeply and madly in love with an actress named Diya(Amy Jackson). One fine day, Diya approaches him to act in an Ad film with her. She gets him the necessary make over, and in the process of the shoot, the couple fall in love with each other.
Twist in the tale arises when Diya's professional enemies run down a deadly virus into Lingesh's body which turns his life upside down. Rest of the story is as to how an diseased Lingesh takes revenge on those who made his life an living hell.
Technical Aspects :
'I' is a brilliant film technically. A R Rahman's music is outstanding and so is the background score. As said earlier, the make up and prosthetics used for Vikram's character are mind blowing. P C Sreeram's camerawork is stunning and gives the film an international feel. All the episodes that are shot in China look beautiful.
The sets designed and scale of the movie is up to Shankar's standard. Telugu dubbing is decent and so are the dialogues. Screenplay by Shanakar lacks focus in many areas as you do not get attached to film emotionally. The way Vikram's character goes about taking revenge on the bad guys in the first half has been hurried up and is unclear.
Plus Points :
Vikram is undoubtedly one of the biggest assets of the film. The efforts that he has put in for his role are clearly visible on screen. He is outstanding in his body builder's character, and pushes the edge with his appearance and acting as the weird looking guy. The way he has showcased pain and grief even though he is covered up with heavy make up is wonderful.
Amy Jackson is apt in her role and looks gorgeous. Visuals in the film are top notch, and the credit should definitely go to Shankar for thinking something different and in a grand scale. All the songs have been shot well and production values are superb.
Make up done for Vikram is of international standard and elevates his character to another level. While the first half has decent entertainment, the second half is emotional. Upen Patel does well in his negative role, and so are Santhanam and Suresh Gopi.
Minus Points :
Too much of hype and expectations spoil the outcome of this film a bit. Shankar has raised the bar so high with his previous films that sadly, I does not meet those expectations. No where in the film you get a feel that it is a Shankar film. He adds unnecessary elements and drags the film in many places.
Last fifteen minutes of the first half are below par, and the love story showcased during this part is boring. The film moves back and forth in time, and the screenplay during this part takes a severe beating. May be for the first time in his career, Shankar has misplaced songs in the narrative.
Yet another major drawback is the excessive length of the film. A lot of scenes and fights could have easily been trimmed. Once the twist is revealed in the second half, the movie gets predictable.
Final Words :
On the whole, 'I' is surely Shankar's weakest film till date. Excessive length, weak story and lack of emotional connect are basic drawbacks. But keeping the festival season in mind, Shankar's grand visuals added with Vikram and Amy Jackson's mind blowing performance, this film can be given a shot. Only thing you need to do is go in without any expectations whatsoever.
Overall 25CineFrames Rating :

2.75/5
[clear]