Hema opens about clash with Brahmanandam
Nagarjuna hates Tollywood! | Senior Actor Ahuti Prasad was admitted in KIMS | Gopala Gopala Latest Posters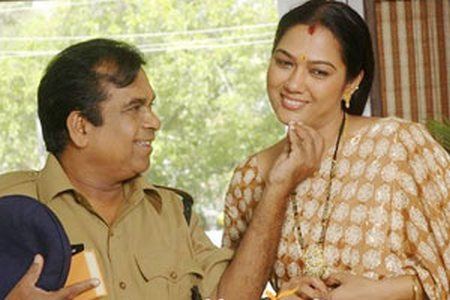 Is not all well between comedy king Brahmanandam and comedienne Hema? Yes, says Hema.In many blockbuster films Hema paired up with Brahmanandam and gave good entertainment. But in the recent past Hema has gone into oblivion and not being seen. It is not because she is running out of offers but it had another reason.
In a candid interview to a media organisation, Hema said that she had lost several offers due to Brahmi as the comedian dont want to pair with her anymore.
Last words of Music Director Chakri | Sai Kumar's Father P.J.Sharma Died he is no more | NTR takes a shocking decision!
''Many told me that Brahmanandam garu didn't want to act with.But i have not believed initially.As i got same complaint from many directors I had questioned him about this. When i asked the same Brahmanandam Anna told that he was not involved and that the producers may have done that due to budgetary constraints''Said Hema
Hema admitted that she had since then been preserving a distance from Brahmanandam."It's been some time we acted collectively. And am not sure about our reunion'' added Hema.Seems ego factor played spoilsport here.Whatever the reason, the Telugu viewers are losing out interesting comedy pair.