Heart-touching words by MS Narayana's daughter!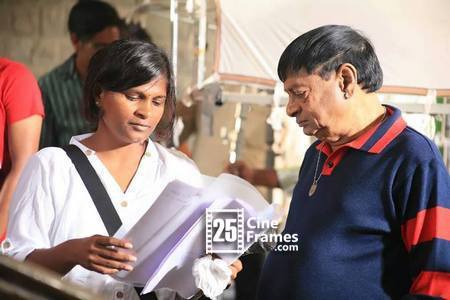 This is surely going to make you feel so heart-touching! A daughter who lost her most loved person, father portrays in the form of a message. Shashi Kiran, upcoming director in Tollywood is MS Narayana's daughter who left the words very recently leaving all in great shock and grief.
MS's daughter has shared her feelings and thoughts about her dad who is no more. Here's the exclusive message from MS's daughter,Shahi Kiran:
'Dad I love u soo much, you are there with me.. I knw you will never leave me alone..show me path and gimme strength to survive without light.. Only pain is how to console and convince mom, near you, honey that your soul is always there with us..I know u cannot leave me like this.. Want to write a lot about you here but my pen is not moving further.. you treated me as your mother you are always there for anyone not only me.. Never seen a contentful person like you.. Taught me to start my life from zero then I can achieve and learn things.. Daddy chala noppi ga undi badha ga undi malli nuvvu natho tv chudavu, bhoncheyavu..nannu mandalinchavu.. Naku pocket money ivvavu nannu nyru honey ani ne gundelaki hathukovu ani telisthe na gunde aagenthe noppi ga undi..dabbu tho kadu prema tho bratakadam nerpavu ippudu naku phone chesi ekkadunav intiki ra ani adige nanna daggara nundi phone radu..andariki navvulni Panchi ichi naku jevitham antha edchina sariponi dukhanni ichav enduku nanna.. Nuv nathone unnavani nammuthunna. Aa Nammakam lekunte nenu Amma andaru inka undam.. love u dad.. Ikkada inka status pette dhairyam kuda ravatledu nuv nathone undu'.
This is definitely a shock to all of us! But we still hope that you are with us sir! We miss you sir!
One who slapped Rana Daggubati! | Brahmanandam revealed the last words of MS Narayana | Hamsa Nandini confirmed about her Love affair