Govindudu Andarivadele GAV Dialogues Censor cut details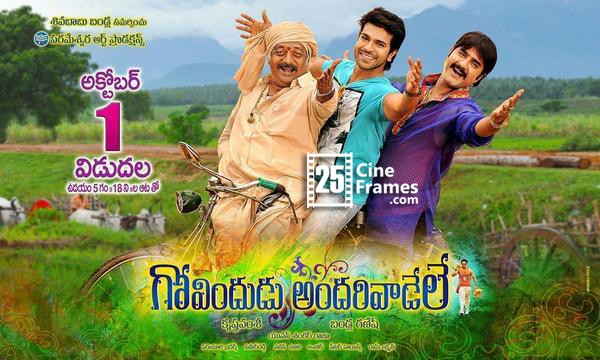 Ram Charan's much-awaited "Govindudu Andarivadele" (GAV) film has passed the Censor test with U/A certificate. The moive is all set to hit the screens on 1 October.
Directed by Krishna Vamsi, Govindudu Andarivadele features Ram Charan and Kajal Agarwal in the lead roles.
Mega Family Tears because of RamCharan | Anushka Shetty Marriage & Husband details! | ileana D'Cruz Andrew Kneebone marriage details
Earlier in the day, Producer Bandla Ganesh says tears rolled down his cheeks after he watched the first copy of his Telugu drama Govindudu Andarivadele. He says he's extremely confident that the film will be a milestone in his career.
"If Muthyala Muggu was late filmmaker Bapu's best work, Govindudu Andarivadele will be Krishna Vamsi's best. I say it with utmost confidence in the film after having watched how well it has come out," he said.
Check out the list of Censor Cuts and changes
1. Submit NOC from AWBI(Animal Welfare Board of India) or delete all performing animal visuals (submitted).
2. a) Deleted the visuals of brand label on liquor bottle in Reel. 1 & 2 (twice) in reel 10 (when Srikanth is sitting on steps and drinking).
b) Display statutory warning on smoking when Srikanth is smoking. 2(vi),2(v)
3. Delete/muted the dialogues 'pichinakodaka, dobbinchuko, neeyamma, neeyayya, neeyabba, gokuthunnadu, gokaadu, deenamma, no screw, screw driver.
4. a) Delete the visuals of back nude posture of heroine while the hero removes her blouse button (9 Sec)
b) Delete the visuals of back nudity while Srikanth tries to rape Chitra (5 Sec)
c) Delete the visuals of thigh exposure of heroine while sitting cross legged in song Ra Ra Rajakumara (replaced with approved shots…same duration) (7 Sec)
d) Delete the visuals of heroine's breast hitting the hero (two shots) (replaced with approved shots…same duration) (6 Sec).
Anushka Shetty stops signing films for a Reason | Gopala Gopala Leaked Photos Pawan Kalyan Venkatesh | Shruti Haasan wants to become mother before marriage