Gopala Gopala "BGM"copied from orange movie?
Rakul Preet Singh slapped Dhanraj | Actress Genelia-Riteish Deshmukh's son photo | Renu Desai comments on Gopala Gopala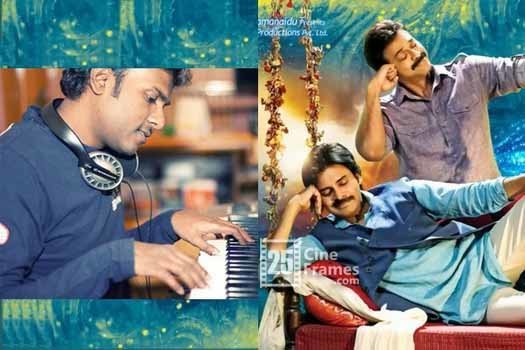 The first look motion poster of Pawan Kalyan-Venkatesh starrer 'Gopala Gopala' has garnered superb good buzz and especially the first look was back ground music poster. The divinity and serenity in Pawan's face and Venky imitating 'The Lord' mannerisms perfectly are sync with the BGM. Music composer anoop Rubens won a lot of praises for that special feel.
But the same BGM landed Anoop in controversy. Some ardent fan of Charan released a video on Youtube comparing the BGM of 'Gopala Gopala' to that of Ram Charan Tej's 'Orange' movie. The comparision seems to be genuine. And when one hears both the BGMs one after the other, they seem strikingly alike. The same BGM which won praise for Anoop Rubens has landed him in controversy saying that his work is 'copy and paste'
See the Below Video which is creating Buzz in Twood :-
[youtuberesponsive listtype="custom" listvalue="tYF4eAwy1fo" center="true"]
Pawan kalyan Statue for the first time in AP | Akhil can be a threat to Allu Arjun | Gopala Gopala First Look ULTRA HD Posters 
It is not only Anoop Rubens, recently almost all the top music directors of the industry are landing themselves in such controversies. The reason behind these controversies is very simple. These top composers are so busy that they are in high pressure to deliver within limited period and hence they go for inspirations which go on to be tagged as 'copy and paste'. Anyway, doing many films in short time period naturally leads to lack of quality and hence such things sprout up occasionally. However, music lovers don't expect their top composers to get into this kind of controversies, do we?
Dil Raju Apology for Sharing Pawan Kalyan's Number  | Jr Ntr  Kajal Agarwal Temper Posters | Bad news for Gopala Gopala?