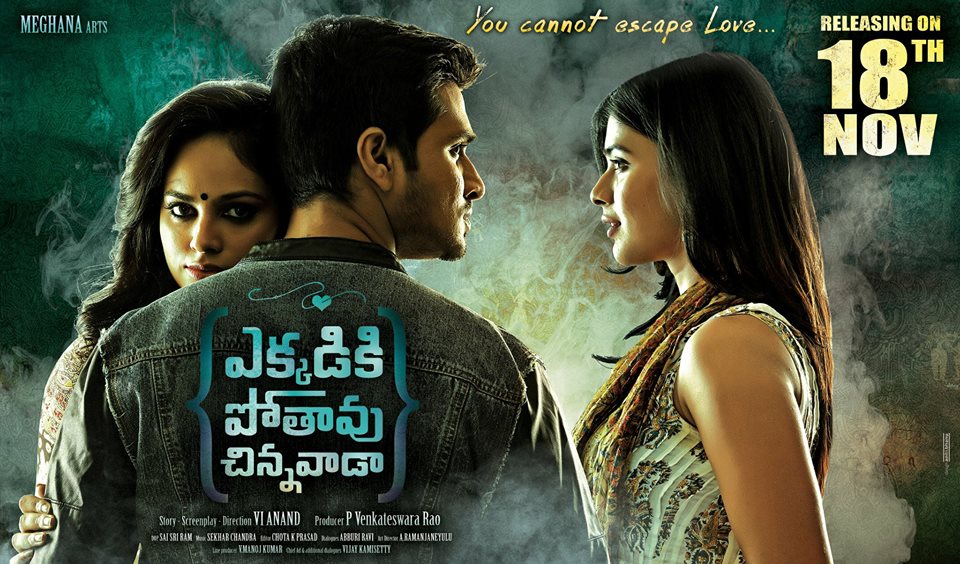 Ekadiki Pothavu Chinnavada Review
25Cineframes Rating: 3.5/5
| | |
| --- | --- |
| Release date | November 18 2016 |
| Starring | Nikhil Siddharth, Nandita Swetha, and Hebah Patel |
| Direction | Vi Anand |
| Producer | P. V. Rao. |
| Music Director | Sekhar Chandra |
| Cinematography | Sai Sriram |
| Editor | Chota K Naidu |
| Production Company | Meghana Arts |

Ekkadiki Pothavu Chinnavada Movie first day collection, review, rating and public talks:
Ekkadiki Pothavu Chinnavada Movie first day collection:
Ekkadiki Pothavu Chinnavada is a romantic thriller directed by Vi Anand.  The movie stars Nikhil Siddharth, Nandita Swetha, and Hebah Patel in the lead roles.  The music for the movie is composed by Sekhar Chandra.  The movie did well at the box office and not having heavy competition turned out as an asset for the flick.
Ekkadiki Pothavu Chinnavada Movie Story
The story starts with Arjun (Nikhil) prepping to tie a knot with his love Ayesha, but fails to reach the register office.  His friend played by Vennela Kishore gets possessed with spirit and to get him treated, they visit a temple in Kerala.  He then meets with Nithya played by Hebah Patel and falls in love with her.  When she disappears suddenly he starts searching for her and finds out that she died years ago.  He then finds out that Nithya is possessed by Amala played by Nandita Swetha and was there in Kerala for treatment.  Why Nithya got possessed by Amala?  Whom actually Arjun loved?  Why did she do that to Arjun and what is the exact story is something for you to find out in silver screens.
Review
Ekkadiki Pothavu Chinnavada is a different story and it is a complete new take from the director Vi Anand.  The movie has received positive talk from the audience so far and is expected to do well till the end.
Plus Points
The twists and turns were well handled by the director. The screenplay will hook the audience till the end.
It is the story that is the hero more than the characters played by the leads. It is a hooking story overall with great mix of twists.
Nikhil has done a great job in his role.
Vennela Kishore as always set to make the audience laugh.
Minus Points
Better editing could be done.
Comedy should have been taken care of well.
Technical Aspects
Chota K Naidu did a decent job with cinematography.  The production values were notable.  Shekar Chanda would have given a far better music.  Director Anand handled the story like experienced.
Final Verdict
This is a complete different genre movie from what we usually see.  Nikhil's selection of movies should definitely be appreciated.  The movie do deserve a watch.
Rating: 3.5/5