Dohchay (Dochay) Telugu Movie Review First Day First Show Live Updates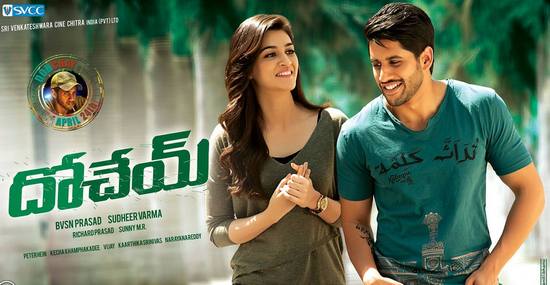 25CineFrames Rating:

3.25/5
| | | |
| --- | --- | --- |
| Release Date | : | April 24,2015 |
| Starring | : | Naga Chaitanya,Kriti Sanon |
| Director | : | Sudheer Varma |
| Producers | : | B.V.S.N.Prasad |
| Music Director   | :   | Sunny M.R |
[clear]
Ater the long wait Dohchay hitting the screens today worldwide with lot of expectations,Let's See how it was
[clear]
Story :
Chandu(Naga Chaitanya) may be a little time crook who cheats everybody and earns cash for his sister's education. One fine day he accidentally comes across a bag full of money that belongs to a dreaded mobster named Manikyam (Posani) with whom he additionally shares a personal revenge.
He steals the bag and uses the money for his personal issues. Twist within the tale arises once Manikyam kidnaps Chandu's daddy and sister and demands him to give the money back. can what Chandu do currently ? however will he lend back the large amount of cash to Manikyam ? and wherever will kriti Sanon feature all told this set up ? That forms the remainder of the story.
Technical Aspects :
Dohchay is high on technical values. The cinematography is sensible and the manner director Sudheer Varma conceptualizes the whole film appearance smart. As said earlier, music is that the weakest purpose within the film. however Sunny M R impresses along with his good background score. screenplay of the film is nice and picks up speed throughout the climax part.
Dialogues written are apt and suit the character of the film. returning to the director Sudheer Varma, one will simply feel that he's still within the hangover of Swamy Ra Ra and chooses a reasonably similar script. however he earns brownie points by adding some entertaining parts and raises the tempo throughout the end that is kind of necessary for any film.
Plus Points :
Naga Chaitanya
Kriti Sanon
Thrilling Sequences
Minus Points :
Story
Narration
Climax
Final Words :
On the total, Dohchay has some very trendy and stylish action sequences. a noteworthy premise, well executed first half and a humourous half an hour are large assets. If you manage to sit down through the predictable twenty minutes post interval and enter with none expectations, you'll positively get pleasure from this shiny action thriller.
Overall 25CineFrames Rating :

3.25/5
[clear]
Updated at 11:42 AM
Climax done..Keep watching this space for the complete movie review…
Updated at 11:40 AM
A funny climax is on now…
Updated at 11:38 AM
Movie heading towards the climax now.
Updated at 11:35 AM
Some very interesting scenes featuring Posani and Naga Chaitanya are being showcased now.
Updated at 11:30 AM
Some comedy scenes featuring Brahmanandam and Ravi Babu are on now…
Updated at 11:20 AM
An item song featuring Madhurima and Brahmanandam is on now…
Updated at 11:17 AM
Ravi Babu makes an entry as an evil cop…
Updated at 11:10 AM
Here comes the one and only Brahmanandam
Updated at 11:00 AM
The movie moves back into the flashback mode…
Updated at 10:55 AM
Time for some relief… A romantic song is on now…Kriti Sanon looks beautiful..
Updated at 10:50 AM
Some scenes featuring Viva Harsha and Naga Chaitanya are on now…
Updated at 10:43 AM
A huge robbery has takes place and a cat and mouse game is on now…
Updated at 10:40 AM
Post the interval the movie heads into a serious zone
Updated at 10:25 AM
Simple twist in the tale and interval bang
Updated at 10:20 AM
A very intense chase scene is on now…
Updated at 10:15 AM
Some emotional family scenes are being showcased now…Rao Ramesh makes an entry..
Updated at 10:05 AM
Posani makes an entry as a main Villain
Updated at 09:55 AM
The second song is on now…A cute looking montage song…
Updated at 09:50 AM
Some fun scenes between Naga Chaitanya and Kriti Sanon are on now…Background score is good
Updated at 09:40 AM
Kriti Sanon makes an entry as a medicial student.
Updated at 09:35 AM
Naga Chaitany's intro song is on now…Shot quite stylishly
Updated at 09:28 AM
Naga Chaitanya has been introduced on a bike in quite a stylish way…
Updated at 09:30 AM
The movie has started on a very serious note…A bank robbery is being showcased now…
[clear]