Delhi Election Results : AAP Champion, BJP Loser, Congress Duck Out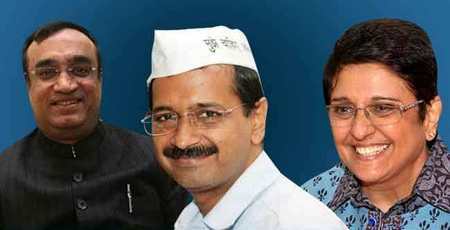 Right after end of polling in Delhi, many media channels and Political Analysts came with their own predictions. Five out of seven exit polls predict Arvind Kejriwal's AAP to sweep Delhi elections shocking BJP juggernaut led by PM Modi.
On the Counting day, the Exit Polls predictions are coming true. AAP leads in majority of the constituencies.
AAP – 67 (Won), BJP – 3 (Won), Congress – 0 (Won), Others – 0 (Won)
– Giant Killer: AK punctures BJP's victory spree
– AAP going to win 90% of seats.
– PM Narendra Modi calls Arvind Kejriwal and congratulates him for AAP's spectacular victory.
– Demand for Rahul Gandhi's resignation grows. Will Rahul Gandhi quits vowing responsibility?
– Conceding severe drubbing, Ajay Maken quits as Congress General Secretary
– Best wishes to you: Anna Hazare to Arvind Kejriwal
– The joke doing the rounds is that at least Modi's "Congress Mukt Bharat" dream has come true
– AAP touches 3/4th mark, BJP decimated, Congress zero
– AAP ahead in 60 Seats
– AAP set to sweep Delhi polls
– Poll a referendum on Arvind Kejriwal: BJP
– Congress Activists protest Outside of Congress Headquarters in Delhi with Slogans "Priyanka Lao Party bachao"
– BJP Leaders disappointed with the results. "Results not as expected, all are equally responsible, we'll have to respect the public's mandate" Praveen Shankar Kopoor, BJP
– Kiran Bedi trailing with margin 1,000 votes, AAP's SK Bagga leading from Krishna Nagar.
– If we lose, I will take responsibility. Results not a referendum on PM Modi – Kiran Bedi
– Congress will respect people's verdict – Congress Leaders.
– AAP's Arvind Kejriwal leading in New Delhi seat