Current Theega Movie Review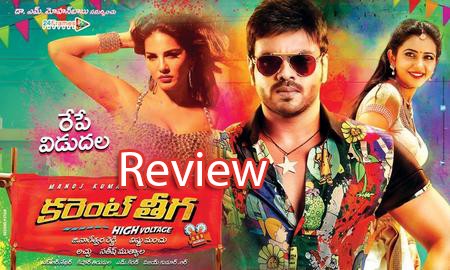 25CineFrames Rating:
3/5
| | | |
| --- | --- | --- |
| Release Date | : | Oct 31,2014 |
| Starring | : | Manchu Manoj,Rakul Preet Singh,Sunny Leone |
| Director | : | G.Nageswara Reddy |
| Producers | : | Manchu Vishnu |
| Music Director   | :   | Achu |
[clear]
[clear]
Rocking star Manchu Manoj, is back with yet another commercial entertainer in the form of Current Theega. Directed by Nageswara Reddy, this film has Rakul Preet as the female lead. After a round of huge promotions and publicity, this film has hit the screens today. Let' see how it is.
[clear]
Type Of Movie (Genre) :
Comedy,Romance
Story :
Sivarama Raju(Jagapathi Babu) is a highly respected person in his village. One fine day, he beats up Veeraju(Supreet) who speaks ill about his daughter that she will definitely elope with someone when she grows up. An angry Sivaraama Raju challenges Veeraju that if something like that happens he will cut both his ears amidst the entire village.
On the other hand, Raju(Manoj) is a carefree soul in the village who falls in love with Kavita(Rakul Preet). Rest of the story is as to how Raju goes against Sivarama Raju's challenge and wins his love.
Technical Aspects :
Music of the film is good, and all the songs have been shot quite well. Production values are excellent, and showcase the village nativity well. Dialogues written are entertaining and suit Manoj's body language well. Editing by Sekhar is quite good in the film. All the montage shots and fights have been edited quite interestingly.
Coming to the director Nageswara Reddy, he builds up the tempo quite nicely till the first half but falters during the second. The villain angle, twists in the tale and other forced comedy at this time becomes a bit predictable.
Plus Points :
First half of the film is quite entertaining. It has the perfect blend of all commercial elements like songs, dances and fights. The story is nicely set up here and flows freely. Current Theega is Manchu Manoj's show all the way. Right from the word go, it is Manoj and his performance that takes center stage. He gives in a settled performance and does not go overboard unlike his previous films. He is good in comedy and emotional department, and it needless to say about his stunning action scenes which he has choreographed quite well.
Rakul Preet is slowly becoming a star actress. She delivers the necessary glamor and emotes supremely well. She looks gorgeous in Indian attire, and carries off the school girl look quite well. Vennela Kishore, Tagubothu Ramesh bring in few laughs. The climax has been designed decently and the fight which comes in here lifts the film to a positive note. Sunny Leone provides the necessary eye candy and entertains in a song.
Minus Points :
The second half is a bit dull. Even though the makers tried to invoke decent entertainment, the story just wanders around. Two songs come one after the other, and spoil the flow of the film slightly . Jagapathi Babu's role lacks the necessary punch. His character is not elevated much and does not provide enough kick to the audience. One could say that he is getting repetitive with his look, and it is high time for him to try something new.
The villain track looks forced and is out of place in the film. Story is quite simple and becomes quite predictable during the second half with routine commercial elements take center stage here.
Final Words :
Overall, Current Theega starts on a promising note with some well designed entertainment during the first half. The tempo dips slightly in the second half but is made up during the climax. Manoj's electrifying performance, Sunny Leone and Rakul Preet's glamor and some comedy elements makes this film a decent time pass entertainer.
Overall 25CineFrames Rating :

3/5
[clear]