Chiranjeevi warns Allu Arjun
Recently during the Blockbuster function of "Sarrainodu", when he was asked him to speak about Pawan Kalyan he said 'Cheppan Brother', which has hurt the feeling of Mega fans and he has been in controversy for a while.  According to the sources it is said that the very next day Chiranjeevi called allu Arjun for the Launch at his house and warned him.
Chiru Admitted that pawan fans were disturbed when the speech was delivered, when he delivered his speech they crowd were shoting the slogan of 'we want power star' and Pawan Kalyan Zindabad'.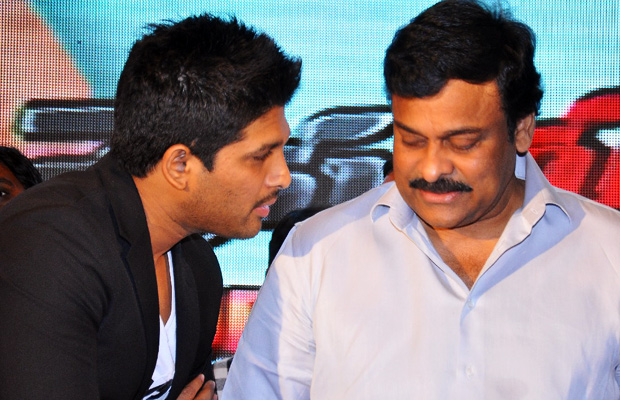 If you take a dig on Allu Arjun, pawan fans that the collections of Arjun's Blockbuster would be equal to that of Pawan Kalyan's Folp Film
Chiranjeevi asked Bunny to be more patience, as he was more serious on Bunny and suggested that the way he took fans, it is totally wrong and he also explained him that fans plays a major role during the release of the movie, at this time they need support from their fans, as they are play a very important role for the success for the movie.
Even Chiranjeevi has reportedly reacted on this matter, sources say, Chiru has reportedly warned Allu Arjun for Insulting Mega fans.
It is heard that Chiranjeevi have also suggested Allu Arjun and his Brother Naga Babu fans to solve the issue as soon as possible. He also said to Allu to talk to the fan Association in east Godavari who has printed the pamphlets and circulating it to the audience, saying that boycotting Bunny's movies and trying to divide Mega fans.
Sources further say, the actor has been wrongly advised by his PR people, when media journo asked him about the incident, he simply said, IPPUDU KOODA Cheppanu and Cheppanu.