We hear that the famous Boyapati Srinu, according to reports, is furious about Koratala Siva's negative comments against himself in recent media interviews. Reportedly, the   director Koratala Siva recently gave out to the media about the terrible experiences he faced as a writer which apparently made him take up direction. He went public about the issue stating that he (Koratala Siva) was the writer for the blockbuster Simha starring Balakrishna, however, claimed that Koratala Siva went public by saying that he was the writer for Balakrishna's blockbuster Simha, but Boyapati Srinu took full credit to the scripting and dialogue of the blockbuster Simha. Koratala Siva went on to say that Boyapati Srinu was the reason that he had to walk out of the project stating his (Boyapati Srinu) behavior as the cause. It was said that his guru cum uncle Posani Krishna Murali also remarked about Boyapati Srinu.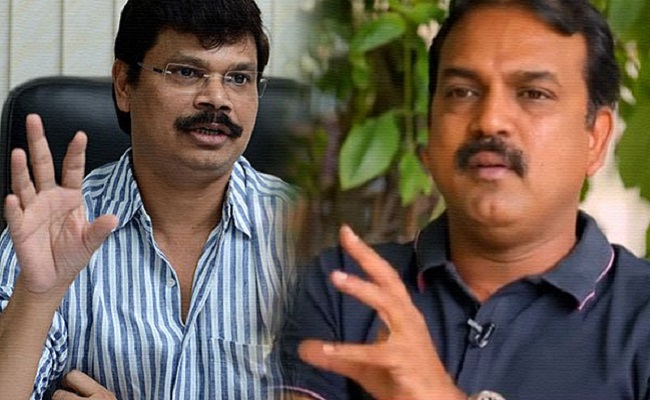 The Lull Before The Storm?
Boyapati Srinu remained calm regarding this issue though Koratala went public with his comments.  So far there are no reports about his side to the story. Industry insiders say that the reason that Boyapati Srinu is calm presently is because he is waiting for the correct time in order to do the counter attack Koratala Siva and co., also stating that Boyapati Srinu is planning to reply to the negative allegations against him in a public meeting.
Legend 1000 Days Outcome
As the Nandamuri fans are setting out to celebrate the 1000 days of Legend in a little while, may be Boyapati Srinu feels that there is no better place or time to speak out against Koratala Siva's comments against him since the entire media will be present and there will be full coverage.
Let us wait and watch to know Boyapati's version on Blockbuster Simha's controversy.  What will be the outcome of Koratala and Posani to this is a competition to look for.