Beeruva Movie Review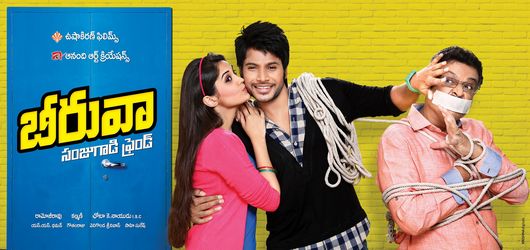 25CineFrames Rating:

2.5/5
| | | |
| --- | --- | --- |
| Release Date | : | 23 01,2015 |
| Starring | : | Sundeep Kishan,Surabhi |
| Director | : | Kanmani |
| Producers | : | Ramoji Rao |
| Music Director   | :   | Thaman S |
[clear]
[clear]
Sundeep Kishan is on a roll with back to back releases. His latest presentation is Beeruva which has hit the screens today. Let's see how it is.
[clear]
Story :
Sanju(Sundeep Kishan) is a rich spoilt brat who always troubles his father(Naresh). One fine day, his dad faces a huge problem and takes the help of a dreaded goon Adikesavulu(Mukesh Rishi). When things seem to going just fine, Sanju suddenly elopes with Adikesavulu's daughter Swathi(Surabhi).
An upset Adikesavulu starts chasing Sanju and his dad. How is Sanju connected to the whole story ? Will he escape from the evil clutches of Adikesavulu ? Where does the Beeruva feature in all of this ? To know answers to all these questions, you need to watch the film on the big screen.
Technical Aspects :
As said earlier, cinematography is quite good in the film. Even though it is a low budget flick, production values have given this film a grand look. Thaman's score is decent and suits the scale of the movie. Edited is good but a few scenes could have been edited in the second half. Director Kanmani's narration lacks novelty as most of the aspects in the film were routine. Dialogues are good and suit the script of the film.
Plus Points :
Major plus points of the film are the comedy episodes featuring Naresh, Shakalaka Shankar and Saptagiri. Naresh once again proves that he is at his best when he does comedy roles. Saptagiri entertains in the second half and Shakalaka Shankar is hilarious in his Srikakulam slang.
Sundeep Kishan does a decent job in his role. He has vastly improved with his dancing and showcases good acting skills. Debutante Surabhi is definitely a find for Tollywood. She has performed quite convincingly and has a long way to go. Mukesh Rishi is good in his supporting role and so was Anitha Chowdary. Tanisha managed to woo the mass audience with her glamour.
Chota K Naidu's camerawork is pretty good as all the visuals are showcased quite beautifully. Production values are good as the film looks quite rich and well made.
Minus Points :
Even though the makers tried to embed the unique concept of Beeruva, it did not help matters much. Neither did the Beeruva create any curiosity nor was the narration. The film becomes quite predictable after a while and does not hold much interest. Many unnecessary scenes have been added to give a commercial effect to the film.
Certain illogical scenes like a fight sequence in the beginning of the second half, could have been totally avoided. Run time of the movie should have been made a bit more crispier. Climax has also been dragged a bit.
Final Words :
On the whole, Beeruva is only good in bits and pieces. Some entertaining comedy episodes, Sundeep Kishan and Naresh's performance are major assets of the film. But the lack of novelty in many aspects makes this film yet another routine entertainer. Watch this film only if you have nothing else to do.
Overall 25CineFrames Rating :

2.5/5
[clear]