Bandipotu Telugu Movie – Allari Naresh New Avatar's Decent Film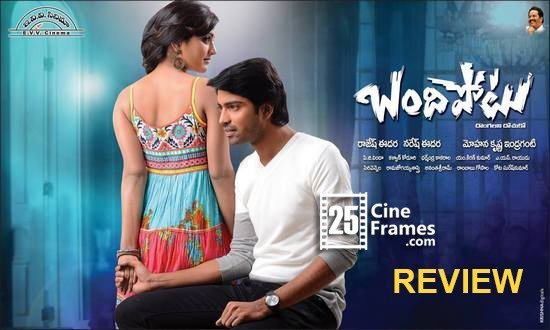 25CineFrames Rating: 3/5
| | | |
| --- | --- | --- |
| Release Date | : | FEB 20,2015 |
| Starring | : | Allari Naresh,Eesha |
| Director | : | Mohan Krishna Indraganti |
| Producers | : | Aryan Rajesh |
| Music Director   | :   | Kalyani Malik |
[clear]
After the decent success of Brother of Bommali, Allari Naresh is back with yet another interesting project Bandipotu. Directed by Indraganti Mohan Krishna, this film has hit the screens today. Let's see how it is.​​
[clear]
Story :
Vishwa (Allari Naresh) is a conman who keeps cheating rich people. One fine day, a girl named Jahnavi(Esha) meets Vishwa and ​hires him to con three ex best friends ​Makrandam(​Tannikella Bharani​) ​Seshagiri(​Rao Ramesh​)​ and ​Bale Babu(Posani).​
​Accepting her proposal, Vishwa manages to successfully con two of the three friends. Twist in the tale arises when Seshagiri and Makarandam come to know of this and plan a counter attack. Rest of the story is as to how Vishwa manages to escape this counter attack and successfully cons the third friend Bale Babu.​​
Technical Aspects :
​Music by Kalyan Koduri is good and all the songs ​have been shot exceptionally well. Production values are pretty good as the makers have not compromised on the visuals. Screenplay of the film is crisp and all the scenes in the first half have been dealt interestingly.
Director Mohan Krishna presents Naresh in a new dimension and extracts decent performance from him. Dialogues are very good and suit the mood of the film. Camera work is pretty good and presents the film in a decent light.
​​
Plus Points :
With Bandipotu, you can see a new and rejuvenated Allari Naresh. Right from his looks to his performance, Naresh has done a decent job and proves that he can carry a entire film on his shoulders. All his confrontation scenes with Rao Ramesh have been executed well. Heroine Esha looks beautiful and has portrayed her character with a lot of confidence.
Yet another major asset of the film are the performances of Tannikella Bharani and Rao Ramesh. Both these actors deliver a mature performance and give life to the film. Posani brings in a few laughs and is good in his role.
Chandra Mohan is apt in his character and so is Subhaleka Sudhakar. First half of the film is pretty decent and has some engaging moments. The way Naresh cons Bharani and Rao Ramesh has been executed quite well.
Minus Points :
Major drawback of the film is lack of entertainment. Other than a few scenes in the first half, Bandipotu is little low on comedy. All those who expect good humor and fun from Naresh's films will be a little disappointed with this flick.
Sampoornesh Babu is wasted in his role. Except for a brief scene in the first half, he is no where to be seen in the film. Bandipotu is a bit predictable and the twists and turns that are showcased are just about ok.
Heroine Esha has absolutely nothing to do in the second half and is hardly there in the film. Second half gets a bit serious and the proceedings take time to unfold. An item song breaks out of now where and spoils the flow of the film. Certain logics go missing and many scenes lack clarity.
Final Words :
On the whole, Bandipotu will be a new leaf in Allari Naresh's career. With this film he proves that he can carry an author backed role with aplomb. Naresh's performance and a interesting set up are basic assets. If you make sure to go in with an open mind and forget Naresh's typical comedy touch, you will end up liking this different attempt.
Overall 25CineFrames Rating :

3/5
[clear]