Baahubali Telugu Movie Review : Great Tribute to Mahabharata & Pride of Indian Cinema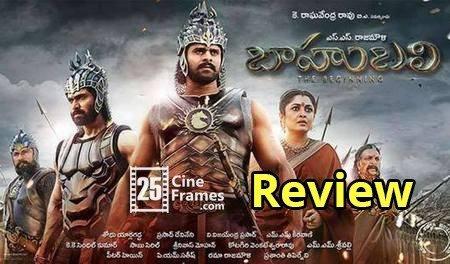 25CineFrames Rating:

4/5
Release Date
:
July 10,2015
Starring
:
Prabhas,Rana Daggubati,
Anushka Shetty,Tamanna Bhatia
Director
:
S.S.Rajamouli
Producers
:
Shobu Yarlagadda
Prasad Devineni
Music Director  
:  
M.M.Keeravani
[clear]
Baahubali is the most the prestigious project in India that has come out of Tollywood within the most recent times. Directed by the maweick director S.S.Rajamouli, this film has Prabhas, Rana Daggubati, Anushka Shetty, and Tamanna Bhatia, and in lead roles. Baahubali is the Biggest Motion Picture in India, Baahubali has hitting more than 4000+ screens today. Let's see the film reached the Craze and Hyper or not.
[clear]
Type Of Movie (Genre) :
Action, Adventure, History
Story :
Shivudu(Prabhas) is brought up by some native area villagers. He grows up with special skills which turn out to be a mystery for every one. On a One special day, he sees Avantika(Tamanna Bhatia) and falls in love together with her.
As time passes by, he comes to know that she and her group are trying hard to rescue the royal princes Devasena(Anushka Shetty) from the evil clutches of Bhalaladeva(Rana Daggubati). Shivudu decides to help Avanitka and enters the Mahishmati Kingdom.
As soon as he lands there, he comes to know that he has a past related to both Mahishmati and Bhalaladeva. what\'s that past ? What will Shivudu got to do with Mahishmati ? who is Shivudu in real life. to grasp answers to those questions, you need to watch the film on the large screen.
Technical Aspects :
writing about technical aspects of Baahubali film is a one of the happiest thing as a Telugu Film Lover. Baahubali is by far the most technically sensible film that has come out from Indian cinema. every and each frame the film is sheer magic. The sets, VFX work and graphics are simply out of this world. One should be very proud to see such grand visuals especially in a Telugu film. Music is decent however the background score could have been higher.
Next in line is the art direction. Really Sabu Cyril has done a excellent job with the created sets in Baahubali. Be it the the kingdom surroundings main palace sets, and also the warfare equipment, everything looks spectacular. Senthil Kumar's camera work is mind blowing. His impressive visuals are nicely complimented by the beautiful VFX by srinivas mohan. The water fall scenes and a few shots during the fight sequence with Kaalakeya are executed brilliantly.
The manner Rajamouli has conceptualized the visuals are going to be a learning lesson for a generation of aspiring film makers. despite the fact that Rajamouli's screenplay dips slightly here and there, his very larger than life approach is what makes this film such a visible treat.A great respect to Rajamouli garu and Baahubali Team
Plus Points :
SS Rajamouli's direction is that the major plus point of this Baahubali. The manner he narrated the story is very Excellecnt. The VFX effects play the key role in this film as 80 make the most the film consists of graphics.
Usage of dolby Atmos technology additional an advantage. The war sequences in the film, that showcasing of islands in an exceedingly lovely way, depicting the kingdom and showcasing it using visuals is extra ordinary way.
Actors Prabhas, Rana Daggubati, Anushka, Tamanna, Ramya Krishnan, Nasser etc performances are the main highlight of this film. The background score and songs are apt and that they are placed in an exceedingly correct situation. Dialogues delivered by Prabhas, Rana Daggubati,Anushka created the audiences to travel gaga over them.
Minus Points :
First half of this film move with slow pace. there have been will too several twists and confusions within the story. It looks that Rajamouli will reveal those twists in the second Part.
Final Words :
All of us we have Read 'Mahabharata KuruKshetra Yuddham' in Books and Heard it through our Grandparents but our S.S Rajamouli Witnessed it on Large Screen .. Go Watch for it…Baahubali (Bahubali) – The Begining is a pride to Indian cinema… Must watch this Epic drama….
Overall 25CineFrames Rating :

4/5
[clear]
Baahubali Movie Cast & Crew :
Star Cast
Prabhas as Shivudu and Amarendra Baahubali
Rana as Bhallala Deva
Tamanna as Avantika
Anushka as Devasena
Ramya Krishna as Sivagami
Nassar as Bijjala Deva
Direction & Screenplay : S.S. Rajamouli
Producers :
Prasad Devineni & Shobu Yarlagadda
Presenter :
K. Raghavendra Rao
Story :
V. Vijayendra Prasad
Music :
M.M. Keeravaani
Editor :
Kotagiri Venkateswara Rao
Director Of Photography :
K.K. Senthil Kumar
Art Designer :
Sabu Cyril
VFX Supervision :
V. Srinivas Mohan
Stunt Choreography :
Peter Hein
Dances :
Prem Rakshit,
Shankar,
Dinesh Kumar,
Jani
Costume Designer :
Rama Rajamouli, Prashanti Tripirneni
Dialogues :
Telugu – C.H. Vijay Kumar, Ajay Kumar G
Tamil – Karky
Hindi – Manoj Muntashir
Take a deep breath and Brace Yourselves. Baahubali-The Beginning India's Biggest Motion Picture is releasing tomorrow. Avoid Piracy, watch the Live EPIC on the screens.
Updated at 03:04 AM
Keep watching this space for the complete review
Updated at 03:00 AM
The movie has head back to the present and has ended with a simple twist
Updated at 02:59 AM
Time for emotional speech by Prabhas… The war has come to an end now
Updated at 02:40 AM
VFX work is mind blowing.. never before seen on India screens
Updated at 02:30 AM
The war format has kick started and some unimaginable war scenes are being showcased now..
Updated at 02:25 AM
A heavy duty war scene is being readied now.. Time for some epic war scenes
Updated at 02:20 AM
Time for an item song 'Irukkupo'.. Nora Fatehi and scarlet Wilson have come in
Updated at 02:15 AM
Some interesting scenes between Rana and Prabhas are on now.. Surprise Surprise Rajamouli makes a special appearence
Updated at 02:10 AM
Twist in the tale revealed now.. flashback mode.. Ramya Krishna makes a re entry
Updated at 02:05 AM
An ultimately timed emotional scene is now being showcased.. Rajamouli a sheer genius… Crowds going crazy
Updated at 02:00 AM
An intense chariot chase scene is on now…. fights have been composed quite nicely
Updated at 01:55 AM
Some tense scenes between Rana and Nasser are on now
Updated at 01:50 AM
Post interval the film starts on a serious note
Updated at 01:47 AM
Till the interval point all the characters have been introduced quite interestingly… The movie has enough emotions and visual treat for sure. Let's see how the second half turns out to be
Updated at 01:45 AM
Interval now.
Updated at 01:40 AM
The movie has reached an interval point at the right note.. Interval now.
Updated at 01:40 AM
The movie has reached an interval point at the right note.. Interval now.
Updated at 01:38 AM
Visuals are breath taking.. Emotions have picked up at the right note.
Updated at 01:35 AM
A very emotional scene regarding Rana's statue is being showcased now..
Updated at 01:30 AM
A heavy duty snow storm is being showcased now… Twist in the tale and the real action has started now in the story
Updated at 01:25 AM
Yet another song 'Paccha Bottesina' is on now.. Tamannah looks gorgeous as the regal princes
Updated at 01:20 AM
Some romantic scenes between Tamannah and Prabhas are on now
Updated at 01:15 AM
Anushka makes an entry as Devasena .. She is a slave in Rana's kingdom
Updated at 01:10 AM
Here is the 'He Man' of Tollywood Rana Dagubati… He is Magnanimous and huge as Bhallaladeva…
Updated at 01:05 AM
Rana makes an entry with an enticing bull fight..out of the world
Updated at 01:00 AM
The art work and sets are just out of the world…never before seen on India screen
Updated at 12:58 AM
Rana's Kingdom Mahishmati is being showcased now..
Updated at 12:56 AM
Kanada super star Kiccha Sudeep makes an entry now… Tamil star Satya Raj has also made an entry
Updated at 12:53 AM
A heavy duty fight scene is on now.. Tamannah is showing her action skills..
Updated at 12:47 AM
She is looking drop dead gorgeous.. Dheevara song is on now.. Breath taking visuals
Updated at 12:45 AM
Milky beauty Tamanna has been introduced with an imaginary song..
Updated at 12:43 AM
Tanikella Bharani and Rohini have been introduced in a small village
Updated at 12:41 AM
Here comes the six pack of Prabhas.. He is just mighty as Shivudu
Updated at 12:39 AM
The fans have gone crazy and the theatre is filled with flowers and papers.. this is getting crazy
Updated at 12:37 AM
Here comes the one and only Prabhas. He has been introduced in a stylish way..
Updated at 12:35 AM
The movie has started off on an emotional note. A huge water fall is being showcased now.. visuals are just stunning
Updated at 12:33 AM
Ramya Krishna has been introduced now
Updated at 12:30 AM
The atmosphere in the theater is just electrifying..
Updated at 12:27 AM
Crowds are going berserk .. you can't hear a thing in the theater
Updated at 12:25 AM
The movie has Just started and the titles are now rolling
[clear]