Baahubali Official Telugu Trailer deleted Due To YouTube Scam details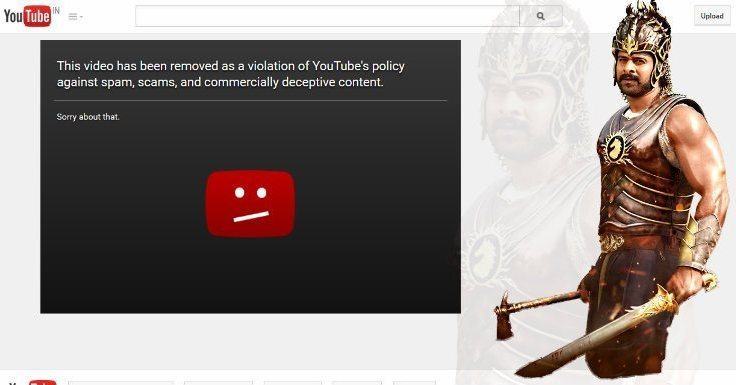 This may be shocking news for all Prabhas and Rajamouli fans. YouTube channel has deleted SS Rajamouli's Baahubali Telugu trailer from its channel.
The exact reasons for its removal are not better-known. But, it looks that YouTube has deleted it due to fake views and likes from some section of people. Official trailer with nearly 3000000 views was deleted.
This trailer received immense response from the audiences. One reason for deleting it's, people may view it from completely different countries, that caused problem for the channel.
This is the second time that YouTube has deleted the official trailer previously first Mahesh Babu Aagadu also removed from youtube like this. Meanwhile, Baahubali trailer is on its way creating new record on YouTube. Suddenly, all the records wasted because of the deletion.
Why Baahubali Trailer Deleted From YouTube:
Youtube stated "This video has been removed as a violation of YouTube's policy against spam, scams, and commercially deceptive content". On its page now. this is shocking news for Rajamouli and Prabhas fans.The Video has now been added with official logo of Lahiri Music and T-series Telugu Channel which has currently released the trailer as they have taken the rights.Prabhas fans and Baahubali film lovers were deeply hurt by this and were attempting to find out the reasons behind this. On the flip aspect, fan wars were on rage between Mahesh babu and Prabhas followers since the release of Srimanthudu and Baahubali teasers.
we & all the TFI and telugu movie fans across the world are deeply hurted by this Issue that the pride