Alludu Seenu 1st day collections all areas wise List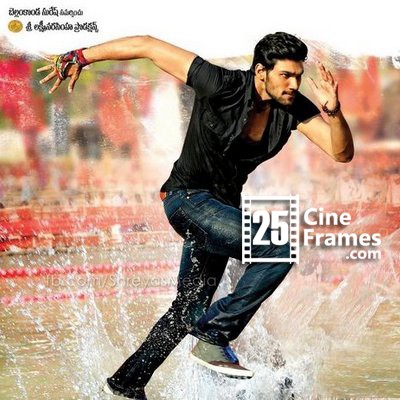 Ace director VV Vinayak's much-awaited Telugu movie Alludu Seenu, which marks the acting debut of producer Bellamkonda Suresh's son Srinivas, has started with a bang at the ticket counters across the globe. As per its early trends, the film featuring Samantha in the female lead, will make superb collection at the Box Office on first day and set a new business record in the Telangan and Andhra Pradesh.
Ever since VV Vinayak announced it, Alludu Seenu has been creating positive ripples in the media. Its posters, trailer and music videos have garnered lot of curiosity for the film. In addition, Bellamkonda Suresh has had massive publicity with a whopping amount of Rs 8 crores. The advance ticket booking was made available for on Wednesday and it registered sale of more than 40% tickets for Friday.
Considering all these factors, trade experts from the Tollywood predicted that Alludu Seenu would start on a fantastic note. As expected, the movie, which released in nearly 700 screens across the globe on July 25, has received an overwhelming response at the ticket counters in the morning and matinee shows. The film has reportedly registered an average of 70% to 80 occupancy in both single screens and multiplexes.
The makers of Alludu Seenu are thrilled over the fantastic opening of the film at the Box Office. They hope that it will set new record on its first day. Writer Gopi Mohan, who has penned dialogues and script for the movie, tweeted, "Wonderful openings for AlluduSeenu.Vinayak,Samantha,sky high publicity,DSP r factors.Audience reaction was v.good :)".
Total 1st Day Area Wise Box Office Collections Report:
Nizam Rs – 93 Lakhs
Ceded Rs – 55 Lakhs
Vizag Rs – 32 Lakhs
Guntur Rs – 25 Lakhs
Krishna Rs – 21 Lakhs
East Rs – 20 Lakhs
West Rs – 22 Lakhs
Nellore Rs – 14 Lakhs
Total Share Rs 2.82 crore (Only AP and Telangana)
Alludu Seenu Movie Review and Rating
Total 1st Day Nizam + Andhra Pradesh(AP) Box Office Collections: – Updated Soon
Karnataka –
Rest of India –
Overseas –
However, Alludu Seenu has got negative reviews from film critics. Even the movie buffs, who watched it in first and second shows, seemed to have been unimpressed with it. The biggest complaint from them is the movie lacks fresh concept.
As the movie is prestigious to Bellamkonda suresh, his son and director V.V Nayak, movie has come well in allmost all the aspects. Alludu Seenu First day collections are 20 crores. Industry discovered a new hero who can do allmost all things needed for a commercial movie. Alludu Seenu 1st day collections.