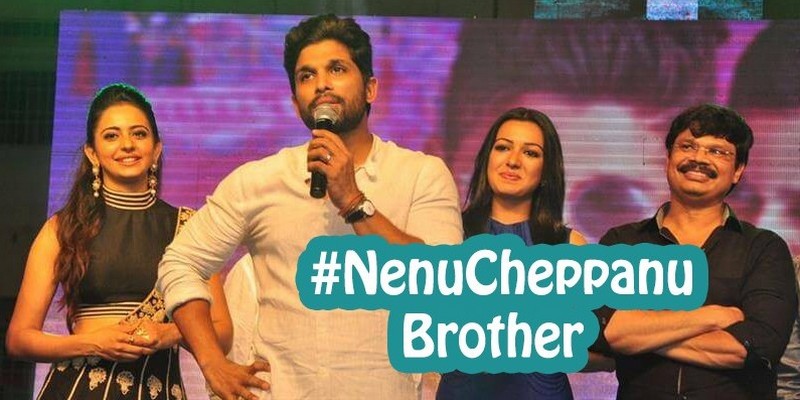 'Sarainodu' is the latest blockbuster movie directed by the sensational hit director Boyapati Seenu which is now rocking at box office. The entire movie unit celebrated the 'Blockbuster function' of the Sarainodu movie at Siddhartha College, Vijayawada yesterday.As expected, mega fans are in complete josh and speculated a lot for stylish star Allu Arjun speech. After he began giving his speech on the stage, in the middle some power star Pawan Kalyan fans started shouting.
It is quite natural for the fans of Pawan Kalyan nowadays to shout in any audio launch or success meet function regardless of the stardom and the celebrities who have attended. When the fans of Pawan Kalyan asked him to speak about Pawan Kalyan, Allu Arjun openly rejected without any hesitation. While the fans are shouting for PK, Allu Arjun looked quite aggravated as they interrupted his flow of speech.
He simply said without any reluctance, he simply said "Nenu Cheppanu Brother".Currently, this news and the video of Sarainodu success meet arenow trending on twitter and other social networking platforms. And Allu Arjun is being trolled on Twitter for his unexpected answer to PK fans.
The speech of Allu Arjun in the Sarainodu success meet that went on Wednesday evening willcertainlyshow impact on the powerful Powerstar's fans maybe on the erroneousflank. But, one question that is pricking everyone's head is that, "Why is Bunny not interested in talking about his own family actor?"
In his speech, he had mentioned Megastar Chiranjeevi but he didn't utter a word even after fans demand. Adding fuel to that, he also announced on stage that his film collected Rs.100 crore gross and this would be his first movie to gain such a massive collection.
The fans of Megastar had even made this trending as#NenuCheppanuBrother on the micro-blogging site by posting various tweets trolling the Stylish Star. However, let's have to wait for the reaction of die-hard fans of Pawan Kalyan.