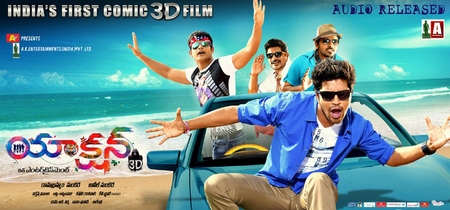 Release Date:
21 June 2013
Starring: 
Allari Naresh
,
Sneha Ullal
, Sundeep…
Director:
Anil Sunkara
Producer:
Sunkara Ramabrahmam
Music Director:
Bappi & Bappa Lahiri
25CineFrames Rating:

2.75
[clear]
Type Of Movie (Genre) :
Comedy
Story:
Director Posani reaches popular Telugu hero OBAMA [Oruganti Bala Mahesh] to narrate a story, but in reverse OBAMA starts narrating real story about Bawa [Allari Naresh], Ajay [Kick Shyam], Purush [Raju Sundaram] and Siva [Vaibhav Reddy], Who are child-hood friends: As Ajay's marriage get settled with Sruthi [Sheena]… Bawa, Ajay, Purush & Siva plans for a crazy bachelor party @ Goa.
On the way to Goa… Bawa fell-in-love with Gita [Nilam Upadhyay] at first look, but she rejects him instantly. However gang takes it easy and reaches out Goa for life time celebrations, they eat-drink-dance and also take drugs unknowningly. In the whole craziness of drinks and drugs combo went on mad-adventurous night… which brings numerous trouble, and To-be-groom Ajay disappears by the morning. What happened to Ajay? What really happened on that night? What are the problems created by these guys and how did they face those problems? Were these people came out of the problems safely? Has Ajay marrie to Sruthi? are to be seen on Silver Screen.
Direction: director had succeeded in perfectly planning the characters' entry and exit. Also represented perfectly what he want to show.
Music & other Technical Aspects:In the world of 3D cinema… Technical team has a bigger role in letting Director present his thoughts perfectly, Especially not-so-fit Cinematography and Stereography can take all the cash invested by producer and dump it in Hussain Sagar. Glad Anil got the best technical team, Along with giving soul to Action 3D … Cinematographer Sarvesh Muraari and Stereographer Keith drever extended much needed support to debue director Anil Sunkara. 3D effects in this movie are SIMPLY SUPERB, Hats-Off to the Trio Anil-Sarvesh-Keith for bringing such a fabulous show to a TELUGU MOVIE. These 3D effects would surely help Action3D to fare better at box office. Music is okay, Background Score is good.
The whole movie story is a lift from popular Hollywood franchise 'Hang-Over', so nothing much to talk about its merits-demerits, But while directing this kind of Suspense-Comedy genre film Screen-Play, Editing must be very precise and that's exactly where the team failed miserably. Due to bubble-gum [dragging] narration… not only we witness lot of non-required scenes but also feel bored many times, Editor could have used his scissors well more than what he did. In these kind of comedy films one-liner-punch dialogues play vital role and Action 3D team couldn't live up-to expectations in this department as well.
With his style of taking and Framing scenes… Debut director Anil Sunkara seemed potential enough, We may expect to see more movies coming from him in sooner time. However as captain of the team his selection of Screen-Play, Dialogues, also Hollywood-Style-Story-Line is poor and could be the main reasons for this movie to be an average one.
Performances: Jr.Rajendra Prasad… Commedy King… Allari Naresh managed to bring laughs with his natural performance & timing as-usual, He didn't try anything new than any of his earlier movies. Though Raju Sundaram wasn't given any importance during trailers, posters and publicity… the role given to him and the performance delivered makes Raju as the TRUE HERO of Action 3D. As an half-knowledge person, The way Raju freaks-out the situation was AWESOME and perfect, Actually Raju's charecter entertain audiences alot than Allari Naresh. Vaibhav Reddy, looked opt for the role given to him. Though important but nothing much to perform sort of role given to Kick Shyam and he looked alright.
Better not to talk about the performance of Nilam Upadhyay, Probably 'B', 'C' center audience may go ga-ga for her sexy Navel, Cleaveage shows. No difference in Sneha Ullal charecterization as well her performance, But she try to win the audience over with her Hip Shaking moments and no-inhibition skin show within Ding-Dong-Bell song.
Though it is a guest role, Sudeep shines once again with his kewl – natural performance, dialog delivery… this time he also made audience whirl in their seats through his butler english. MS Narayana's 'Dukudu' sequence is okay. Suneel & Posani are just okay-okay. Master Bharat role & performance is bad. Senior camedian Mr.Bramhi was wasted in this movie stands out as big minus.
Comedy: Average, Movie itself is done for comedy but it takes less part but any one can enjoy a lot with film inbuilt comedy + 3d Effects
Plus Points: Kewl 3D Effects in a Telugu movie so far, Sudeep, Raju Sundaram comedy, All 3D shot songs, Sexy skin show.
Minus Points: Less entertainment quotient, Unappealing Cliamx, Outdated comedy, Bubblegum screenplay, Poor Editing, Dialogues, Heroines are just for skin show.
Final Words:Less Entertainment + Full 3d Effects = Action3d [ watchable for 3dEffects ]
Overall 25CineFrames Rating:

2.75/5
[clear]
[starrater]