Aagadu Telugu Movie Review Premiere Show First Day First Show Live Updates
Aagadu Telugu Movie Review : Mahesh Babu's Best One Man Show Movie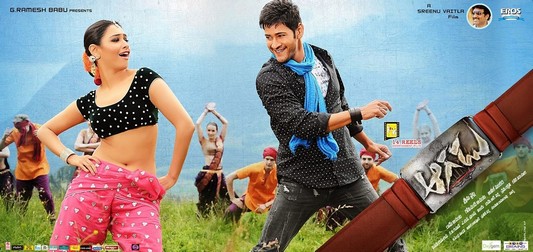 25CineFrames Rating:
3.25/5
| | | |
| --- | --- | --- |
| Release Date | : | 19/09/2014 |
| Starring | : | Mahesh Babu,Tamanna Bhatia |
| Director | : | Sreenu Vaitla |
| Producers | : | Ram Achanta,Gopichand Achanta,Anil Sunkara |
| Music Director   | :   | S Thaman |
[clear]
[clear]
The successful combination of Mahesh Babu and Sreenu Vaitla is back ​once again to entertain the audience with Aagadu. Tamannah is cast as the female lead, and 14 Reels are the producers. After a huge round of promotions, the film has opened in over 2000 screens today. Let's now see how the film is.
[clear]
Type Of Movie (Genre) :
Action,Comedy
Story :
Encounter ​specialist ​Shankar (Mahesh Babu) is posted to a small town called Bukkapattanam. The entire area is dominated by a ​dreaded don called Damodar (Sonu Sood),​ who runs illegal businesses by threatening the poor. Shankar decides to take ​things in his hands, and starts ​planning ​Damodar's decline. ​Midway through, he comes to know about a shocking truth about Damodar, which relates back to his family.
What is that truth ? How does Shankar manage to destroy Damodar​ and his empire ? and Where does Saroja(Tamannah) and Delhi Suri(Brahmanandam) fit in this entire set up ?. To know answers to all these questions, you need to watch the film on big screen.


Technical Aspects :
Music of the film is a huge plus,​ as Thaman has given superb tunes which go with the flow of the film. All the songs have been shot richly and look superb on screen. Dialogues of the film need a special mention. There are enough punches and satires in the ​entire ​film, which will be liked by ​everyone.
Camerawork is quite good. The visuals which were shown in trailers, look even more better on screen. Production values are good as the makers have spen​t lavishly for the film. Sreenu Vaitla ​must be credited for showcasing Mahesh Babu in a super light. He etches an entertaining character for Mahesh, and extracts superb performance from him.
Plus Points :
Aagadu is an out and out Mahesh Babu film. Right from the word go, it ​i​s ​Mahesh's histrionics which dominate the show completely. As usual, Mahesh looks extremely dashing, and carries out his role of ​a cop supremely well. The way he goes about his character, and blends himself into the script​,​ is quite amazing. Interesting factor to watch out for is the fun e​​lement that he brings in his character, which is filled with punch dialogues and satires.
Tamannah looks gorgeous as the village belle, and is a perfect jodi for Mahesh Babu. First half of the film is highly entertaining, and brings in a lot of fun. Shruthi Haasan's song is a special bonus to the masses as she oozes ​sensuous charm and glamour. Brahmanandam brings in decent laughs in the second half, and his dance episode in particular is quite hilarious. ​
​ ​
Nasser ​is superb as the police constable​,​​ and his scenes with Mahesh and Vennela Kishore have come out quite well. ​S​ongs ​are entertaining and ​have also been shot well​. Rajendra Prasad, Posani and Ashish Vidhyardhi are decent in their respective roles.
Minus Points :
As expected, even Aagadu has the same trademark Sreenu Vaitla set up and comedy. The entire second half has been spoofed on his earlier films like Dookudu. Once the so called twists are unleashed, the film becomes predictable.
​Climax of the film is quite simple, and is just hurried on to us. ​​Once again, story and narration of the film is routine, and resembles Sreenu Vaitla's trademark style. ​Sonu Sood's negative character is not elevated much, and does not look menacing on screen.
Final Words :
​With Aagadu, Mahesh Babu once again proves his super stardom. Right from the word go, it is Mahesh, Mahesh and only Mahesh throughout the film. Even though this film has routine similarities to Vaitla's previous flicks, entertaining comedy in the first half coupled with some decent music makes this film an​ ok​ ​family entertainer.
Overall 25CineFrames Rating :

3.25/5
Click Here :- Visit Aagadu Latest Posters,Gallery,Stills
Click Here :- Visit Aagadu Latest Trailers,Teasers,Songs
Click Here :- Visit Aagadu Audio Function LIVE
Hi folks here you can visit Mahesh Babu Sreenu Vaitla's Upcoming Aagadu Movie Review
The END.
Climax fight, like any other regular fight.
Updated
2:58AM:After Brahmi's antakshari bit, movie moving towards climax now.
Updated
2:56AM: Brahmi's dance for Nacore, Dillaku dillaku and Sir Osthara song, comedy worked out well.
Updated
2:53AM: Gabbar Singh Antakshari kind of spoof
Updated
2:51AM: Brahmi and sonu sood comedy scene is good.
Updated
2:50AM: Mahesh dance is a feast for fans.
Updated
2:45AM: Time for Naari Naari song.
Updated
2:43AM: Movie going in good pace
Updated
2:40AM: Routine Drama going on
Updated
2:38AM: Shades of Dookudu in 2nd half revenge sequences
Updated
2:35AM: Revenge drama started using Brahmi.
Updated
2:32AM: Brahmi comedy lifting the film
Updated
2:32AM: Superb comedy between Mahesh and Brahmi
Updated
2:26AM: As of now there are 3 villains , brahmi as Delhi suri, n sonu sood 's boss
Updated
2:22AM: Brahmi entry as Delhi Suri
Updated
2:16AM: Sruthi Hassan is too hot, lots of energy in the song
Updated
2:15AM: The massy Item number Junction lo is on now.
Updated
2:02AM: Interesting Twist after post interval
Updated
1:50AM: Fight with Sonu Sood, Interval bang is good
Updated
Aagadu 1st half is a feast for fans , Srinu Vytla mark comedy, Movie picked up pace after 30 minutes. Although there is no proper story, butentertinemt is at peaks . Songs picturisation, Comedy, punch dialogues, Meelo Evaru Potugadu. Overall 1st half is entertaining.
Updated 1:49 AM
A Fight in Police station…Extremely well shot..
Updated 1.41AM
Bhel Puri song is on now! Beautiful picturization & Attractive song on Screen..!!
Updated 1.35AM
Nuvva-Nena..Hilarious with Posani..
Updated 1.33AM
Huge response for 'MEK' skit, Posani and Vennela Kishore rocked.
Updated
1:22 AM: Meelo Evaru Koteeswarudu episode start..Double Entertainment started..As of now,, Superb!
Updated
1:19 AM: The Superhit "Aaja Saroja" song….Shot beautifully!!
Updated
1:13 AM: Nice shot..Mahesh Babu – Tamannah first scene in Park.
Updated
1:11 AM: Thammudu..Thuppalloki yellakudadamma..Yellipondi..Hilarious punch by Babu to lovers in Park….
Updated
1:05 AM: Tamannah simple entry..Saroja sweets ads..Superb hilarious 😀
Updated
12: 58 AM: Audio functions lo Heroes ni pogidinattu pogadakandi 😉 Peak response..
Updated
12:58 AM: New modulation of Superstar dialogues..Catchy and highly impressive.
Updated
12:53 AM: The popular "High command ki soap ese Minister…" completed..Heavy response for the hilarious modulation 🙂
Updated
12:51 AM: Few hilarious dialogues b/w Mahesh & Nassar..
Updated
12:48 AM: Sonu sood entered..Well shot!!
Updated
12:42 AM: No beep for "Dikki" here in Dubai..Story shifts to Bukkapatnam.
Updated
12:40 AM: "Aina Nuvvu dialogue esthe counter eyyadaniki …" The hilarious dialogue completed..
Updated
12:36 AM: Encounter Shankar entered the show…Mass & Superb entrance..
Updated
12:34 AM: Introduction dialogue " Ee Pokiri police ayithe badhalu ayipodi, eedi dhookudu ni evadu apaledu"
Updated
12:32 AM: Veedi Dookudini yevadu aapaledu..Aagadu Title track now..Superstar rocking…Massive repsonse in Theater..
Updated
12:24 AM: Aagadu Logo screened with Rocking music. Titles now.
Updated
12:20 AM: Show started !! Response at peaks.
Updated
12:12 AM: Heavy croud in Theater. Currently, Some photos are taking inside Theater [World's first Premiere show]. slight delay in show for media. show will start in next few minutes.
Updated
12:03 AM: Show is about to start. Surprisingly, More families than youth.
Updated
11:55 PM: Show yet to start in Dubai. In Theater – 5 more minutes to go. Filling with families.
Aagadu Movie Review from UK
Aagadu, will he achieve, wont he? Will Mahesh score industry hit, Will Aagadu better Dookudu?
These are the questions pondering Prince and Super Star Mahesh Babu fans with the Aagadu movie release now coming to barely few hours away. But thanks to the premiere, the movie has been premiered already and it gets a review too!
So what's the talk? Here here, people, the news you have been waiting for, Aagadu gets a THUMBS UP!
According to A UK-based Indian Cinema Magazine Review, the Mahesh Babu and Tamannaah starrer hilarious action entertainer is going to be one must watch movie for not fans but in general all movie lovers.
The reviewer quoted: "Biggest Treat for Mahesh Fans. He is Fantastic. Tamannaah acts Well. 4*/5* ".
YAY, that sounded like music!
What more you are waiting for, go go advance book your tickets people!
Aagadu is action & comedy entertainer movie Super star Mahesh Babu playing the lead role and Tamanna Bhatia is female lead actress Mahesh babu attempted completly a different in his carrier.
Shruti Haasan turns Item girl for this movie for the First time, Brahmanandam and Prakash Raj are playing yet another important roles in this movie.
S. Thaman is Composing music for this movie. Ram Achanta,Gopichand Achanta,Anil Sunkara producing this movie under 14 reels entertainment pvt ltd banner. Aagadu movie launched on August 30th October 2013 at Shilpakala Vedika at 6:30 PM IST .
Aagadu First Look posters and teaser released on May 31st 2014 on the eve of super star Krishna's birthday. and Aagadu Teaser was released on August 9th on the eve of Mahesh Babu's Birthday.Actor Nithin bought Nizam Rights for this Aagadu movie
Aagadu Exclusive Posters Released on August 31st.
[clear]