2014 has been special for me says Shruti Haasan
Fans Shocked with 'Mukunda' Controversy! | Nayantara Bursted with Anger | Bandla Ganesh's Case Helps Pawan Kalyan?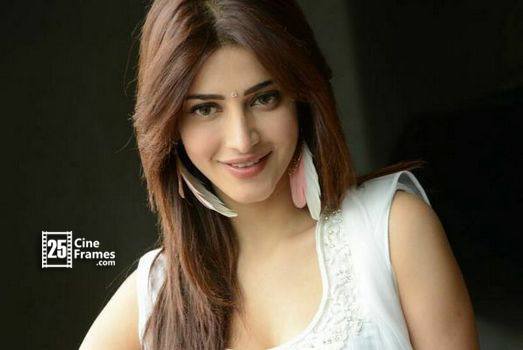 It's been an incredible year for actress Shruti Haasan in all aspects
Shruti Haasan has been the toast of T-Town in 2014 as she raced from one hit to another, even as the industry had an indifferent performance. She began with a bang in Yevadu and then there was Race Gurram. Paired opposite Allu Arjun, she carried off her kitschy image as she shook her booty for the top draw Cinema Choopista Mama. Not surprisingly, it is her 'favourite song of my career'. "I find choreographer Johnny Basha's style really unique and the way he pays attention to detail is amazing. It was so physically gruelling that I felt like I was on the sets of So You Think You Can Dance? (laughs). And dancing like a man in the end was so much fun. I think they made me do the lungi dance in the song because I feel I am a local Chennai boy at heart," Shruti Haasan confesses.
It just wasn't catcalls and whistles for the song; the film also set the cash registers ringing. "It was a challenging role to play. Comedy isn't easy and my character in the film, Spandana could have been really annoying and weird because she never expresses her emotion in the beginning. So, Surender Reddy and I sat down to discuss how to make the character likeable. I love characters like that which are strange. For me,Race Gurram was a great experience in the sense that it was commercial, fun and at the same time challenging."
The actress confesses that she's nowhere close to her onscreen persona in the action drama. "I am a moody person and if I am happy or sad, I will be in that zone for only 15 minutes. I have been a very grungy and off-beat person otherwise because that's the signature of a writer or a singer. People think you are cool if you are weird. It's only after I joined film industry that I began to appreciate all nice things in life like fancy cars, nice clothes, good looking boys, lipstick, etc. Cinema has taught me to be more polished. It has made me calmer and a better person," she laughs.
The high notes of her year definitely include shaking a leg with Mahesh Babu as well as Arjun Kapoor. Juggling between Telugu, Tamil and Hindi films, she has even managed to sing quite a few songs including Joganiyan in Tevar. "I am lucky that I have found the time to sing while I am acting. It's been my goal to balance the two aspects of my career. When you sing, you try to tell a story through your voice and it's quite difficult. You don't have to sound like a nightingale or sound perfect.That's the first lesson I learnt when I joined music school in the US," she says.
Mahesh Babu in serious Problem! What's that | Mahesh and Shruti Haasan are taking Life Risk! | Rashi Rubbishes the Rumours
Next year, she'll be seen opposite the likes of Mahesh Babu,Vijay, John Abraham, Akshay Kumar… And she admits to loving every bit of attention and respect that she has earned from people around her. "It's been an awesome year in all aspects for me. I couldn't believe that I was voted as Most Desirable actress in both Telugu and Tamil industry. I turned vegetarian, bought a new house in Mumbai, mastered the art of selfies and have been busy with work throughout the year. It has taken me a long time to reach this stage of my life and I am enjoying every moment. Honestly, I have never gotten anything easily in my life, except my surname and amazingly talented genetics that my parents gave me generously. I am like an echo (laughs). It took me a while to figure out where I was as an actress and when I look back at this year, I am in a happy place," Shruti says, signing off.
Jr NTR Temper leaked Dialogues | Ram Charan forces Sania Mirza divorce! | Krishna Vamsi's Lady oriented film with Tamanna Details